What is permaculture?
Permaculture is a design system for creating abundance in all aspects of our lives. Permaculture teaches us how build natural homes, grow our own food, restore diminished landscapes and ecosystems, catch rainwater, build communities, take care of waste and much more.
The word 'permaculture' historically comes from 'permanent agriculture' and has evolved into 'permanent culture' – it is about living lightly on the planet, and making sure that we can live in harmony with nature while sustaining human activities for many generations to come.
Permaculture is a rigorous and systematic set of tools, ecological principles and methodologies, underpinned by ethics, which help us to design and create this culture of permanence. A culture that allows us to design how we cater for all our needs and the needs of the planet and all its creatures, without exploiting or depriving other humans or creatures of their needs.
Why a Vegan CCP? We have added to the Permaculture Certified Course the term "Vegan" in order to remain consistent with the "caring" ethic of permaculture, we will not be teaching anything relating to animal husbandry. The ultimate goal is to create abundance for all living beings on Earth, without exploiting humans, animals or depleting the planet's resources.
With permaculture insight we can design our inner tranquillity, it can be applied to creating integrated and supportive communities, building or retrofitting houses to be more energy efficient, creating ethical businesses and livelihoods, as well as creating rich abundant low maintenance food growing spaces.

"Permaculture is common sense in a world where sense is no longer common" — Rakesh
 COST
The cost for the training is based on a hybrid gift economy, where participants are invited to contribute what they can afford and are willing to pay. To cover the ideal training costs we need to raise on average €350 per person. However we invite you to propose how much you would like to contribute (ideally between €200 and €700, but you can also offer less if you write to us to explain your situation). We encourage those of you who can contribute more to do so, which should allow us to cover our costs comfortably. If there is a shortfall in the final sum (which by experience is unlikely), we will request the shortfall to be covered anonymously via a magic hat process. This process is part of the permaculture ethos, which allows people to pay according to their capacity, while meeting the needs of the hosts, teachers, etc.
 accomodation
To make the most of the PDC and increase the exchange in-between participants, we invite people to stay on site for the nights as well. We have a mix of sleeping spaces at venue, including beds indoors and camping spots outside. camper vans, or sleeping in your own car is also possible. 
The accommodation costs are 
– €195 in a shared room of 2 or 4, plus shared bathroom in the house.
– €120 in a tent, with access to solar showers and dry toilets outside.
For any particular financial situation do not hesitate to contact us at 

What is not included:
Bedsheets and towels

Subscription to the association at a free price
Discover how to get to Chival here.
 language
At this point all courses and classes will be in English however we will have an unnofficial french translater helping if needed.
 FOOD
To create a deeper sense of community, throughout the course we will create teams who will help cook every day. We will create a system which allows us to express what our dietary needs are, so that we ensure every meal is ideal for everyone.
 FOOD costs
To ensure we keep the food costs and quality at a level the students require, we are adopting the tried and tested self organising method. This means we will ask you to either bring enough food ingredients to cover your food needs for the duration of the course or bring a mix of food and cash. The food could include home grown veg, grains, preserves, etc. The cash will go into a pot which will be used to buy food as and when required, which will be managed by an elected group of participants. We kindly request everyone to only bring vegan (plant-based) food, which we will pool together and collaboratively cook in teams. If appropriate fresh organic veg will be contributed from the venue.
This method has proven to be very successful, as it promotes collaborative decision making and collaborative working. It also allows people to contribute in a way that suits their budget. 
Participants from previous courses have taken well to this method and noted how the food budget was significantly less that what they would have expected on any other course.
 payment methods and registration
For registration and course content fill in this registration form online and contact (English): Rakesh "Rootsman Rak"
– Rakeshaji@gmail.com
– https://www.facebook.com/rootsmanrak
– https://www.facebook.com/RakeshRootsmanRak
For accommodation contact: info(at)chival.fr
You can pay by cheque, euro bank transfer, PayPal, English bank transfer or cash (by arrangement)
 teacher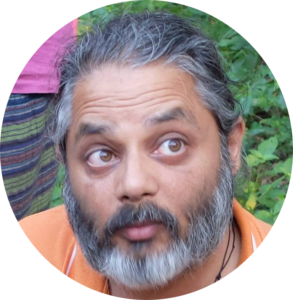 Permaculture Teacher/Designer
Forest Garden Specialist
Computer Consultant
Yoga Teacher
Homeopath
Raggae Deejay
 course syllabus
The course is primarily theoretical and will give you an overview of the permaculture ethics, principles and approach to challenges. We will do practicals and hands-on work, but emphasis is on learning the patterns and concepts that are applied in permaculture. 
Principles of Natural Systems

Sustainable Design Methodologies

Pattern in Nature, Culture and Society

Reading the Land & Understanding Natural Processes

Large Scale Land Restoration Techniques

Water Harvesting Techniques

Design Principles of Sustainable Human Settlements
Grey Water Recycling

Natural Building Strategies

Cultivated & Productive Ecologies

Food Forests, Plant Guilds, Gardens for Self-Sufficiency

Energy Conservation Technologies

Appropriate Technologies and Renewable Energies

Urban Environment Permaculture
Wildlife Management 

Community Activism

Invisible Structures: People, Community, Economics, EcoVillages

Community Supported Agriculture

Strategies for an Alternative Nation

At the end of the class, students engage in a group design project.